This is what is important to me!
MY CLIENT FEEDBACK
There is nothing more valuable to a company and to its prospective customers than feedback.
I'm lucky to receive many compliments from customers who have experienced an excellent service.
Here's a selection of some feedback I received.
"Hi Peter,We absolutely LOVEEEEE the wedding highlight video – cannot wait to see the full version. Honestly in that short video, you really captured for me the vibe and feel of the day, I've watched it so much already!! Thank you so much."

"I just wanted to drop a quick email to say Thank you!!!! We received our beautiful package in good time and we are absolutely over the moon with our wedding video and the editing is superb. We cannot thank you enough for capturing our special day exactly as we had imagined. All the best."

"Hi Peter, Oh wow! The video looks amazing. We can't tell you how emotional it was for us to watch it through. Just so lovely to have captured all the happy memories of the day. We are happy that you were with us on the day. The video is fantastic thanks so much for all your hard work."
SOPHIE & PAUL
Love the video!
"Hi Peter, We absolutely love the video and cannot thank you enough for your hard work! You were so great on the day, very subtle while still capturing the key moments. Cannot thank you enough, the video was a big part of our wedding so appreciate your hard work, past the specific hours too. Happy to write any recommendations, just let me know."
The Great Tythe Barn –Gloucestershire
CIARANNE & IAN
Absolute gem!
"I certainly have to say that Peter is an amazing videographer and an absolute gem of a person as well. He captured our day so perfectly, almost better than I remember it, and he captured really special moments that I'll treasure forever. I've probably watched the highlights hundreds of times, and the actual wedding video at least 5 times. It was the best money ever spent, and worth every penny. I've shown the highlights to so so many, and everyone has had tears in their eyes. I couldn't recommend Peters company highly enough, he captured our day so perfectly, so anyone that couldn't make it to our wedding, they got to be a part of it, with the amazing video he created.
Thank you so so much Peter, we'll be forever grateful."
Nevent Golf Club – Gloucestershire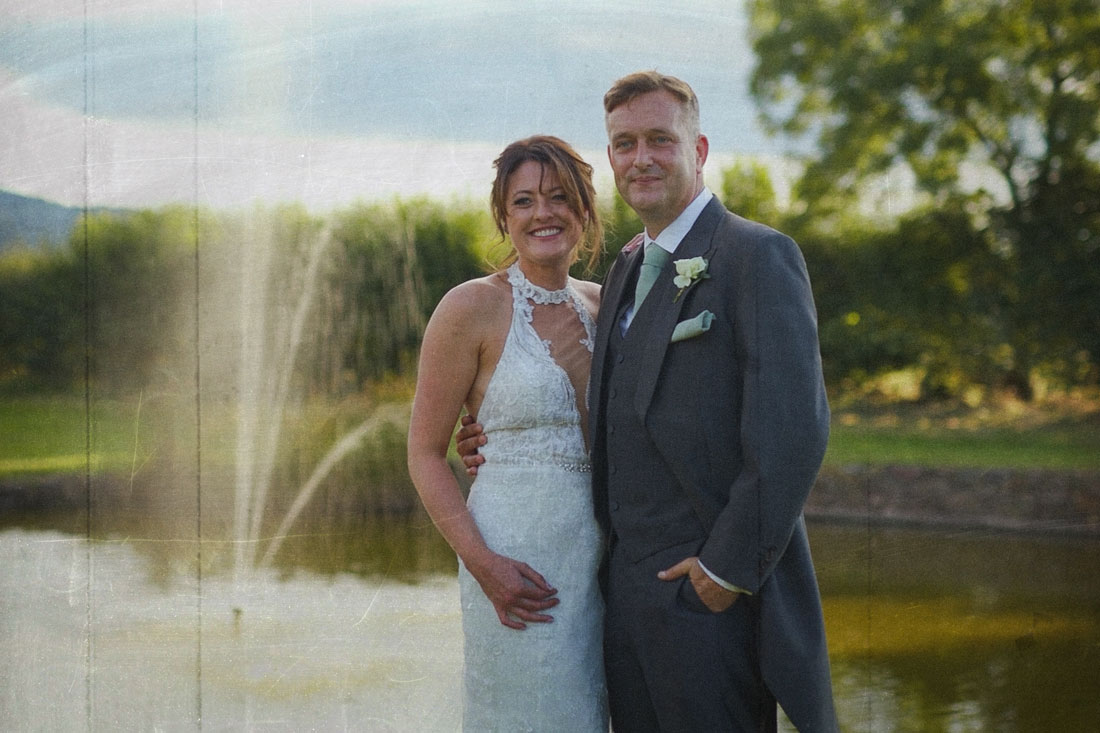 Brilliant Work
SHELLIE & JACK
" Tonight we received our beautiful wedding video. Having a videographer was the best decision ever! Peter captured precious, gorgeous moments throughout our entire day we didn't even see ourselves on the day. Peter thank you so so so much. Just sat through two hours, reliving the most perfect day. We love our videos so much and it means the world to us having every single one of our guests there and captured sharing our special day."
Hatherley Manor
HALEY & SHAUN
"Hi Pete,We love the wedding video and found it very emotional watching it back. You have done an amazing job. I want to recommend you to other couples. Thanks again"

Manor By The Lake
HANNAH & JAMES
"Hi Peter,Hannah and I can't thank you enough; we absolutely love the video! I particularly like the small gestures and facial expressions that you have been able to capture."
Clearwell Castle
EMMA & DAVID
"Thank you for sending out the videos – all received and we've already had cinema nights at home for people to watch it! Everyone loves it 🙂 thank you so much."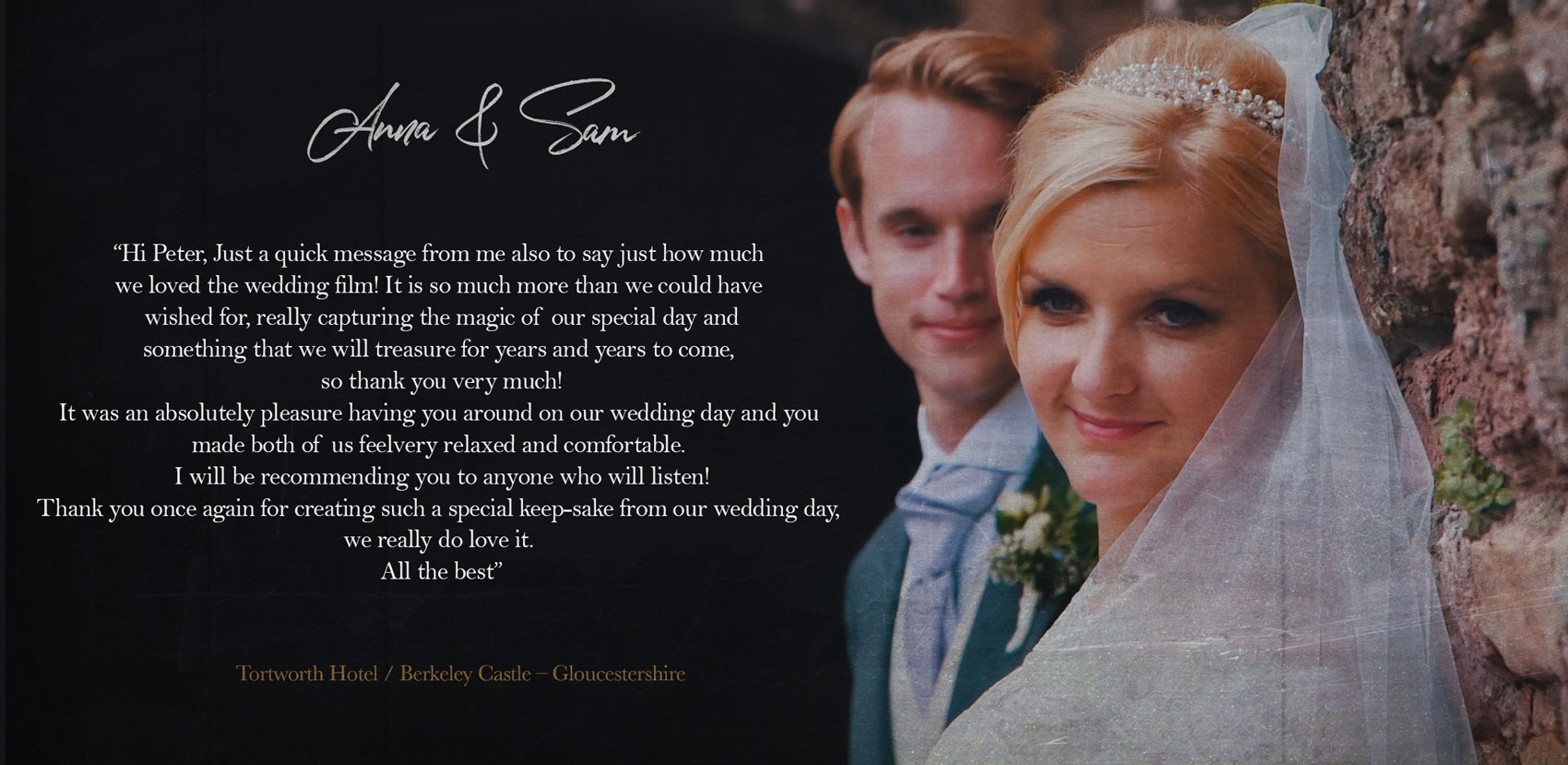 JAMES & LAURA
Very profesional!
Where do we start. We used Velvet Wedding Studio back in April for our special wedding day. From the first day we spoke with Peter to him being at our special day all day, I would highly recommend Velvet Wedding Studio. He was very professional, very calm and didn't even notice we had been filmed the whole day. He is a great character to be around and was very good with our photographer as they both was wanting to capture special moments we didn't even know they did until we saw the finale video. The video quality is amazing one of the best. From the mini clip to the full video. We had nearly 1h30mins of our whole day from start to finish. If I was to have another videographer I'd Peter again. Thank you again Peter for making our day special with the video we watch it often with friends who haven't seen it yet.
Alexandra House - Wiltshire
JONNY & SAM
It's excellent!
" Hi Peter , Just to let you know that we have received the full wedding video. We have just watched it and it's excellent! Thank you for all your hard work! Also, we've had the most amazing feedback from the highlights video. All our guests loved it.
People are saying that it's the best one they've ever seen. Many thanks"
Manor by The Lake – Gloucestershire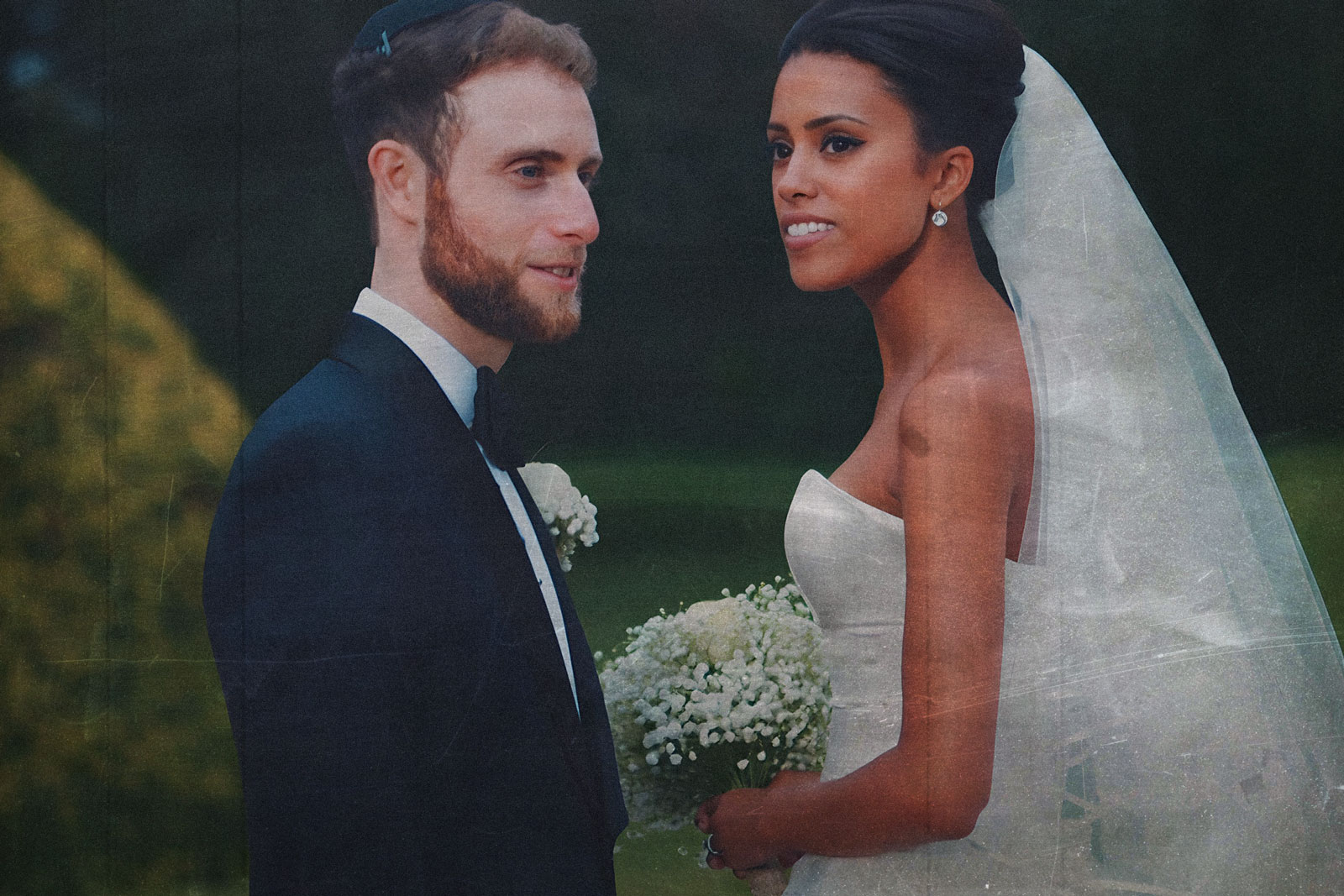 "Hi Peter, The video lovely thank you so much so nice to relive it. Had us all in tears. Thanks for you help we're so pleased with everything. We didn't even notice you there on the day you've done a fab job."

"Dear Peter,Wow… It is so wonderful to relive it, and to see everyone's faces during particular moments. What a joy this is, thank you very much:) "

"Hi Peter,Wow that's amazing made me cry! It was a fantastic day. Thank you for capturing our day in the best ways. Thank you "
Such an amazing job!
LUCINDA & SEAN
"Hi Peter ,just wanted to send you an email to say a massive thank you for our wedding video. Sean and i sat down and watched the whole thing and we are absolutely thrilled with it. It has been beautifully produced and you have done such an amazing job of really capturing the whole day including the laughs and the atmosphere. We would strongly recommend your services to any bride and groom looking to capture their day. We really cannot thank you enough and we appreciate all your hard work that has gone into our video.
Many thanks, "
"Hi Peter, we have just watched the highlights! It's safe to say I'm crying my eyes out, in a good way!! It is beautiful. You captured the day perfectly!  We will cherish those memories forever. Thank you so so much"

"Hi Peter, We have just come home from our honey moon today and what a stunning thing to come home to. It had me in tears!! Thank you so much we love it"

"Hi Peter, We absolutely love the wedding film, it's full of moments we had forgotten/didn't capture so thank you so much!"
MELANIE AND DARREN
Absolutely fabulus !
"Peter filmed both mine and my sister's wedding day with absolutely fabulous results for both. Peter was extremely professional in his approach and we hardly even noticed he was there. Despite his discreet filming he actually captured every single important moment and so much more. Superb attention to detail and the video is such a delight to watch. We love the creative filming which adds an extra sparkle. I can't express how pleased we are that we had the day filmed. Many thanks Velvet Wedding Studio, I will recommend you to anyone."
Mercure North the Grange Hotel - Somerset
Priors Tithe Barn
ALI & TODD
"I genuinely cannot thank you enough. We LOVE this, it's just perfect and nearly made me cry at my desk. I will be recommending you to EVERYONE I know"
Cripps Barn
KIMBERLEY & MIKE
"We can't thank you enough for our wonderful wedding video; we laughed and cried the whole way through! You have done an amazing job and we look forward to writing you a fantastic testimonial"

The Great Tythe Barn
SOPHIE & RICHARD
"Thank you so much for our beautiful wedding video. We absolutely love it! We couldn't stop smiling watching it! That's amazing! Thank you so much."
HELEN & GEORGE
Absolutely stunning!
"Hi Peter.Just watched the full video. Absolutely stunning. Can't put into words how good it is or how much it means to us. It's beautiful; it captures perfectly all of the special moments but also the atmosphere of the whole day. You worked tirelessly in a non-intrusive way to create these special memories for us. We were delighted with the final product; it is the perfect keepsake from our day. The number of guests who have commented on how fantastic it is says it all. Thank-you so much!"
Downing College - Cambridgeshire
True essence of or day!
JENNA & CHRIS
"Our experience with Peter was fantastic; he was brilliant throughout the day/evening. He was friendly, non intrusive and all our guests commented on how professional he was. Rather than sticking a huge camera in ours and our guests faces he had a remarkable knack of remaining invisible whilst capturing some amazing footage. I have had so many comments about how natural and relaxed everybody in the video is and that's down to Peter being there to catch every moment but almost being so invisible we didn't notice him filming. The highlights video was beautifully presented – and was a brilliant taster for the final full version. Every single one of our family and friends loved it. If you want a videographer that captures your personalities and the true essence of your day, then Peter is the man for you. He captured our happy day better than I could have imagined, he takes great care with the edit. We cannot praise him highly enough – a superb job done with no fuss or hassle – a great professional going about his work and making it look easy. Don't waste time researching – seriously – he's very competitive, also worth every penny."